in mixed wrestling sessions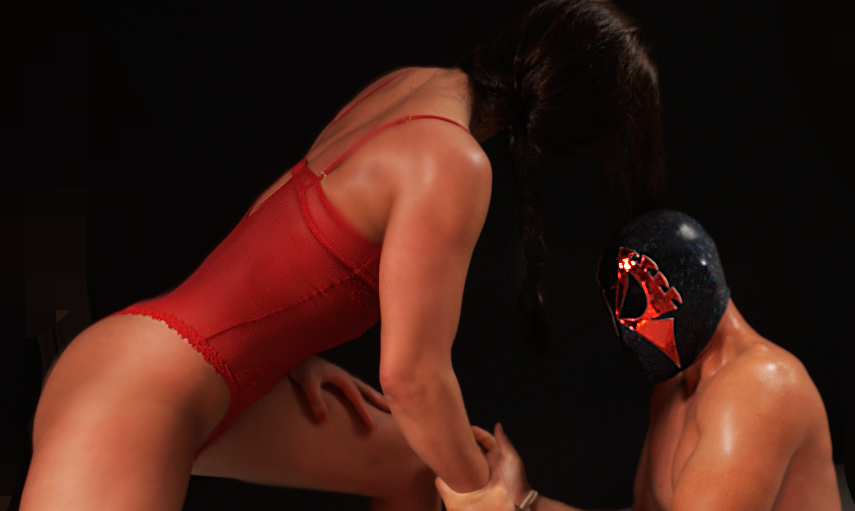 When you book a private wrestling session it is helpful to me if you provide me with an extensive, detailed description of how you would like the session to go. The more details, the easier it is for me to provide you with a tailored experience. 
Of course it could be that you do not know exactly how you would like things to go and that you merely have a concept in mind. Perhaps you would just like to wrestle and experience what it feels like to be overpowered by a lady with martial arts skills. In that case you can simply book a fantasy session. We will start the session with discussing your preferences and see how things go. Or, if you want to test your own strength and skills in a more serious match, just book a competitive session.
However, if you would like a role-play or if you have a specific fetish, I would suggest to clearly state this in your booking request.
I do not guarantee I will fulfill your specific desires, as there are things I will not do. An example of this is applying a KO choke (having you pass out). Of course, I will let you know upfront whether I am okay with your request(s). Don't be shy, I don't judge. 
Below you will find some examples of possibilities during a session.
I offer wrestling, boxing, grappling, judo and BJJ beatdowns. I can carry out any fighting style with precision and in a controlled manner, which means you can choose the intensity. For judo and BJJ beatdowns I have gi available. Judo beatdowns typically consist of a lot of throws and optionally armbars and chokes. In a BJJ beatdown I will make you tap from chokes and all sorts of joint locks. The same goes for grappling beatdowns, except for that you won't be wearing gi for me to take advantage of. A boxing beatdown speaks for itself. If you want it all, I guess you can request a mma beatdown!
Pure physical domination, including your favorite holds, submission techniques and pro wrestling moves. Allow me to add a little trash talk and we will have a wonderful time, where most of it you will spend underneath me or otherwise completely trapped and helpless. Did I mention I love to fold pretzels?
Feats of Strength (Arm Wrestling)
I believe a lot of men do not seem to believe they can be defeated in arm wrestling by a lady who is not on steroids. Let's find out.
This is one of my specialities. There is no weight limit for throws. The heavier you are, the harder you will land.
Given my back injury I currently have a weight limit for lifting. If you are below 100 kg, I can safely lift you. 
My absolute expertise. Nobody has managed to escape my favorite pin hold yet. Would you like to feel what it is like to be absolutely trapped, controlled and dominated on the mats? Than this is for you. 
Send me your favorite scenario or give me some guidelines and I will take care of the script. The story ends with your defeat.
Most persons tap rather fast from my neck scissors, body scissors and I even made someone tap from squeezing their biceps between my thighs. 
Less serious but with enough resistance to raise your heartbeat. 
I'd love to make you fly.
I can give you wrestling advice, teach you submissions or give you a brutal spartan workout. Very refreshing. 
In a competitive bondage wrestling match we try to tie each other's hands and ankles together with ropes laying around or the opponent has to cooperate with having an ankle or wrist tied after tapping from a submission. This means that after four points, the next tap leads to a nice hogtie.
You can choose between a gi or nogi match. I have jiu jitsu attire available. 
Competitive grappling is similar to BJJ without a gi. It includes submissions but we start from our knees. 
A judo match starts standing and includes throws. 
Pin wrestling might be my speciality. A point is scored when the opponent is held down with their back on the mats for 30 seconds. 
Bikini/Lingerie Wrestling
Being overpowered and/or outwrestled by a fit woman in a bikini or seductive lingerie should be on your bucket list, don't you agree?
By far the most convenient position is a traditional schoolgirl pin. I'd love to make myself comfortable with your face hidden underneath me. 
Feet Domination/Worshipping
A very common fetish. Details can vary from being made to massage or kiss my feet after a defeat to gagging. 
Massage me and feel the soft skin and firm muscles of a trained female back. Kiss my biceps and squeeze my calves. 
Losing your breath while enjoying a nice view.